Cyprus Robotics
Professional Skills: Smart Electronic Device Development, Robotics Development Software Development, Artificial Intelligence, Machine Learning
Name & Surname: Tezel Çelebi
Phone: +90 (533) 888 55 03
Address: Teknoloji Geliştirme Bölgesi No:14 DAÜ Kampüsü, Gazimağusa - KKTC
Email:
info@cyprusrobotics.eu
Website:
www.cyprusrobotics.eu
Social Media: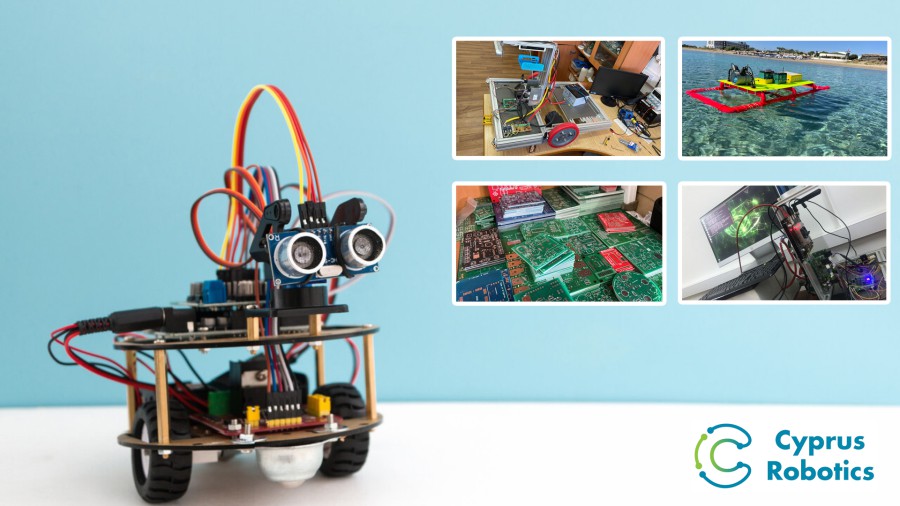 ---
Cyprus Robotics was established in 2019 and is the first robotic manufacturing company in Cyprus. The company, which includes experienced electronics, software and mechatronics engineers, specializes in mobile robots, surface and underwater data collection systems, environmental data collection systems. Our company, which has versatile working capabilities, continues its research and development activities in the Famagusta Technology Development Zone located within the EMU Campus.
With our team specialized in autonomous mobile vehicle design, we operate in areas such as light and heavy load transport, disinfection, surveillance, and information gathering with mobile platforms.
We design and manufacture surface vehicles, surface and underwater environmental data collection devices that can perform bottom mapping. Our floating platform, which can create ground maps up to a depth of 100 meters and perform survey studies autonomously, will be launched in 2023.
We design and produce real-time image processing systems supported by artificial intelligence and machine learning.
We provide services in electronic circuit design and assembly (SMD/PTH) and help bring your ideas to life.
"We only provide services in the areas we are experts in."
Today, industrial robots are used in many application areas. As Cyprus Robotics, we only provide service in the application areas that we are experts in. We use our energy to provide the best service to investors in our areas of expertise and to improve ourselves by following the latest technology. We believe that this policy is more beneficial both for ourselves and for valuable investors who receive services from us.
Our Application Areas
Robotic Machine Feeding Automation

Robotic Transport Automation

Robotic Palletizing Automation

Robotic Packaging Automation
"We produce robotic solutions for your needs."
As Cyprus Robotics, we know that understanding and defining the needs of the facilities is an important factor in producing the most cost-effective, efficient and sustainable solution. We enable investors to make the most profitable investment by designing flexible, smart, ergonomic and state-of-the-art robotic work cells for their needs.
"We design for you."
As Cyprus Robotics, we carry out the design, manufacturing and purchasing activities of all electrical and mechanical system equipment in the robotic work cells, which we have prepared in line with the needs of the investors.
"We determine the best system placement for affordability and high quality."
In the robotics sector, there are industrial robots with different features according to their intended use, lifting capacity and reach. At the same time, these robots have a list of options that should be determined according to the application to be made. In this context, the robots to be used in robotic automation projects should be determined in a way that will make the most profitable investment, taking into account the investor's needs. As Cyprus Robotics, we choose robots that will respond to investor needs in the best way and most cost-effectively with our special simulation programs. In addition, as a result of our simulation studies, we determine the system layouts where the robots can work most efficiently. In addition, we foresee the problems that may arise during the commissioning of the designed robotic work cells and eliminate these problems while they are still in the design phase in order not to waste time for the investors.
"We provide installation and commissioning services."
Cyprus Robotics carries out the software and hardware turnkey commissioning of the robotic work cells that it has specially designed for robot investors.
"We implement comprehensive training programs after installation."
Although the robotic work cells we have commissioned are easy to use and maintain, we attach great importance to operator training. As a result of the trainings we provide, we prevent production stoppages that may occur as a result of simple user error. Because we believe that as long as our customers produce and earn, we will continue to grow as their robotic partner.
"We are always with you with our Technical Support, Maintenance and Spare Parts services."
As Cyprus Robotics, we are always with the valuable investors who prefer us. For this reason, we attach importance to after-sales services as much as project design, installation and commissioning services. Since the day we started working together, we are as close as a phone call with our after-sales services.